Go to the settings tab and do the following
Business Location
1.Create Business Location under settings and call it something like Room Booking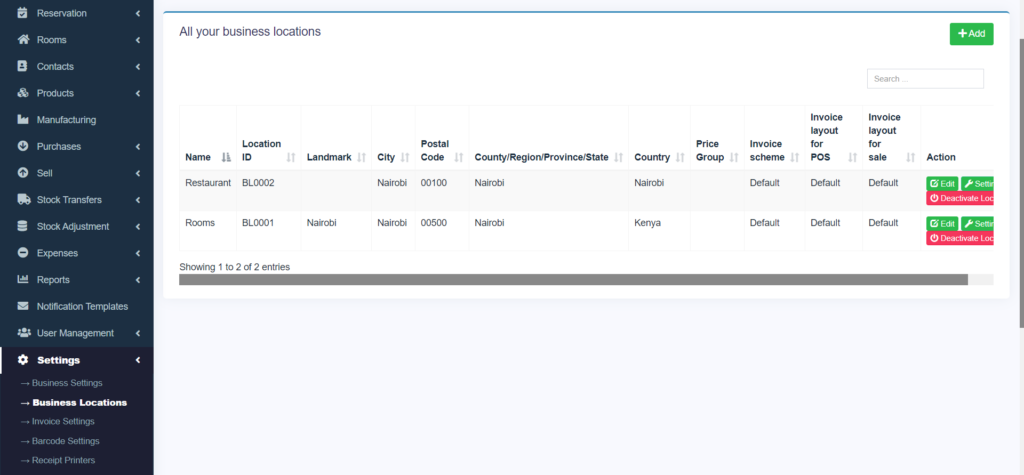 Invoice Settings
2.Under Invoice settings, create Invoice scheme under settings for Room Bookings and after saving it edit it and add a prefix to the invoice/folio that you would prefer. Could be something like BK000001
3. Still under Invoice settings, create an invoice layout specifically for room booking and name it as such. Edit the specific aspects of the invoice layout to suit how you would want your folio/invoice to read
4. Go back to the Business Locations and edit the business location you just created to have the new Invoice Scheme and Invoice Layout as default for Room Booking.
For Bar and Restaurant
To create bar and restaurant locations, do the same process only this time making the invoice Design slim(80mm) rather than Classic for A4 so that it would be printable on a thermal printer
Business Settings
On Business settings, you can set up you business details and edit them as you wish
Email Settings
To be able to send emails from the system, if you have a custom domain with a company email, you can set it up so that the system sends emails as originating from your email. Your hosting provider should be able to provide you with this information should you not have.
Payment Accounts
Payment Accounts are accounts in which payments will be going into. If you would like to track cash, card, bank or even mobile money payments separately, you will need to enable this.
Go to Business Settings -> Modules then click on the Account button to enable it then save.
After this is done, a tab will appear on the menu called Payment Accounts. Open it and create the accounts such as Cash or Bank or MPESA or all of them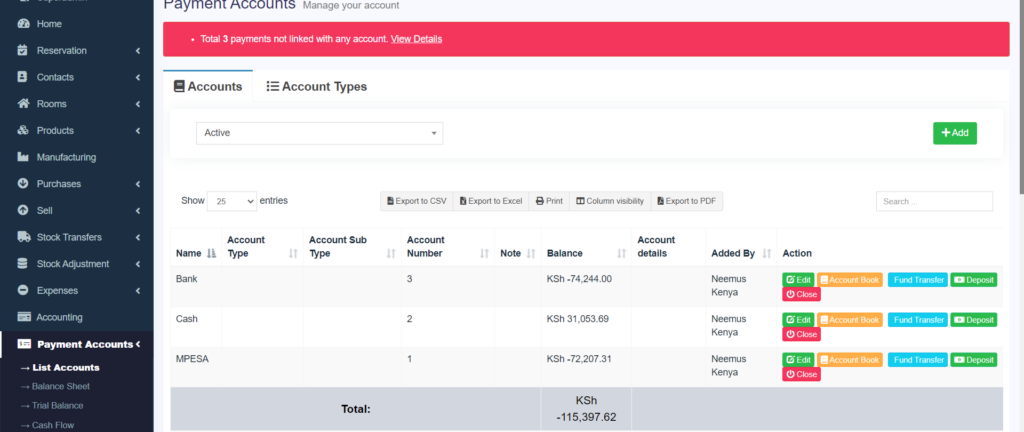 If you had done transactions before you do this you will notice a red banner saying the payments have not been linked.
To prevent this from appearing for future transactions, go to Business Locations click on edit on each location, scroll to the bottom and assign each payment method a default account from the payment accounts
Default Payment Methods are Cash, Card, Cheque, Bank Transfer and Other but you can add your own other payment methods under the Business Settings ->Custom Labels-> Custom Payment
Please note that the Payments Account module is not an Accounting module and has no double entry accounting. That is a different module called Accounting available in the Silver and Gold Packages
Next Step is to set up the reservation section. CLICK HERE